Fishing Kayaks
Until recently, any kayak was a fishing kayak if you had a fishing pole. However, since kayak fishing has exploded on onto the kayaking scene, many manufacturers are offering angler packages, while some are even designing boats from the ground up to be fishing machines. Now there is an emphasis on seating, rod holder positions, storage, and stability, all of which maximize a boat's ability to be a fishing platform. 
The kayaks on this page are those which have aspects that make them more suitable for fishing, whether that's a simple pair of flush mounted rod holders, a full angler package, or a ground-up fishing design
Solo Skiff – fishing kayak, SUP, and power boat all in one!
---
The Jackson Kayak Coosa HD river fishing kayaks are simply the best for running moving water up to Class II. They'll outfit a bigger person, offer a drier ride, less draft, more capacity, more stability, more maneuverability, and more (more is better).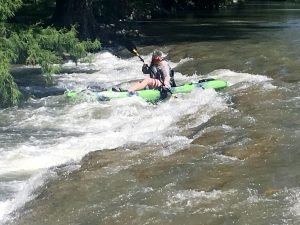 Jackson Liska
Jackson YuPIK
---
Bonafide SS127
Native Manta Ray Angler 12 XT
Wilderness Systems Radar 135